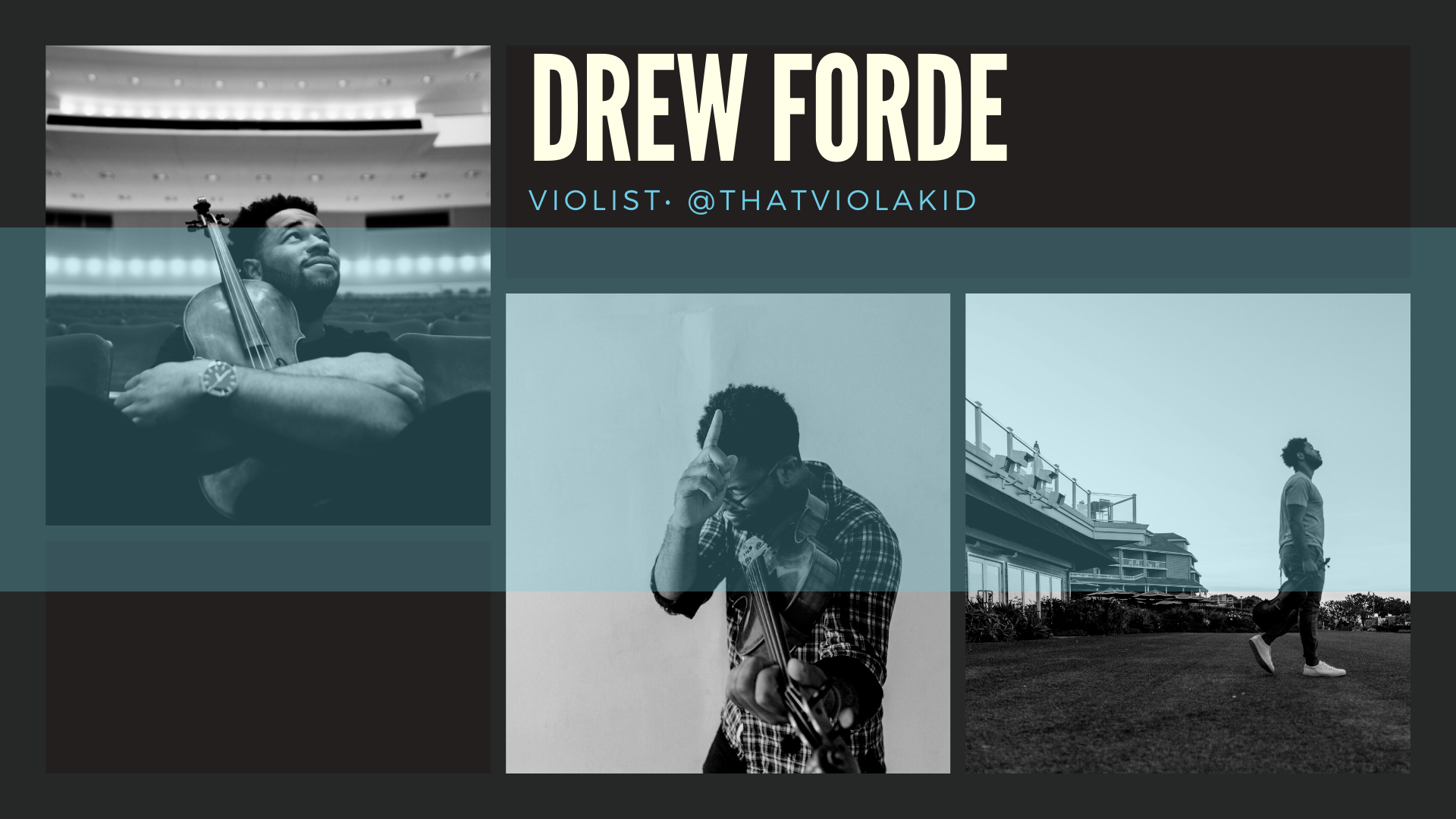 Violist Drew Alexander Forde, known online as ThatViolaKid, has a reputation not only as an accomplished performer but also as one of classical music's most recognizable online brands. Profiled in outlets like Thrillist, WNYC, the Detroit Free Press, and Strings Magazine, he was named "one of the titans of Classical Music Instagram" by National Sawdust Log and was called "the future of our field" by Sphinx Organization president Afa Dworkin.


Check out his episode to learn more about:


⏰how many hours Drew spends editing an Insta story
👨🏽‍💻advice for live performing artists thinking about getting into content
🌳how to juggle seasons of your life where you're interested in different things than you originally set out to do


What questions does the episode spark for you?
Click below to ask Drew a question and we'll feature our favorites on the @tm2cpodcast Instagram account!


<iframe
src="https://www.videoask.com/fv783vd8r"
allow="camera; microphone; autoplay; encrypted-media;"
width="350px"
height="500px"
style="border: none"
Drew Forde has been a guest on 2 episodes.
Episode | November 26th, 2019 | 59 mins 16 secs

classical music, instagram, julliard, viola

We love things that go together. Turkey and stuffing. Kid and Play. Viola and Instagram. Wait, Viola and Instagram? Sounds weird, but it's totally not when Drew Forde aka That Viola Kid is around. In this coffee date, we go deep on what it takes to be a live performer at the top of your craft and harness social and digital content, what the tradeoff is when you don't follow the traditional path and why dating is tough when you're labeled an 'influencer'.

Episode | November 22nd, 2019 | 15 mins 10 secs

classical music, content creation, teaser, viola

BIG NEWS ya'll! We're moving your coffee date to Tuesday starting next week. We didn't want to leave you without any inspiration during the move, so here's a little amuse-bouche of next week's episode for your listening pleasure. Drew Forde aka That Viola Kid and Jess talk about the trade-off when you're a live performing artist who gets insta-famous for your digital content. Anyone else struggling with this? @ us and let us know!